The Youth in the Balkans and their Cultures of Communication, Non-Communication, and their Notions of Reconciliation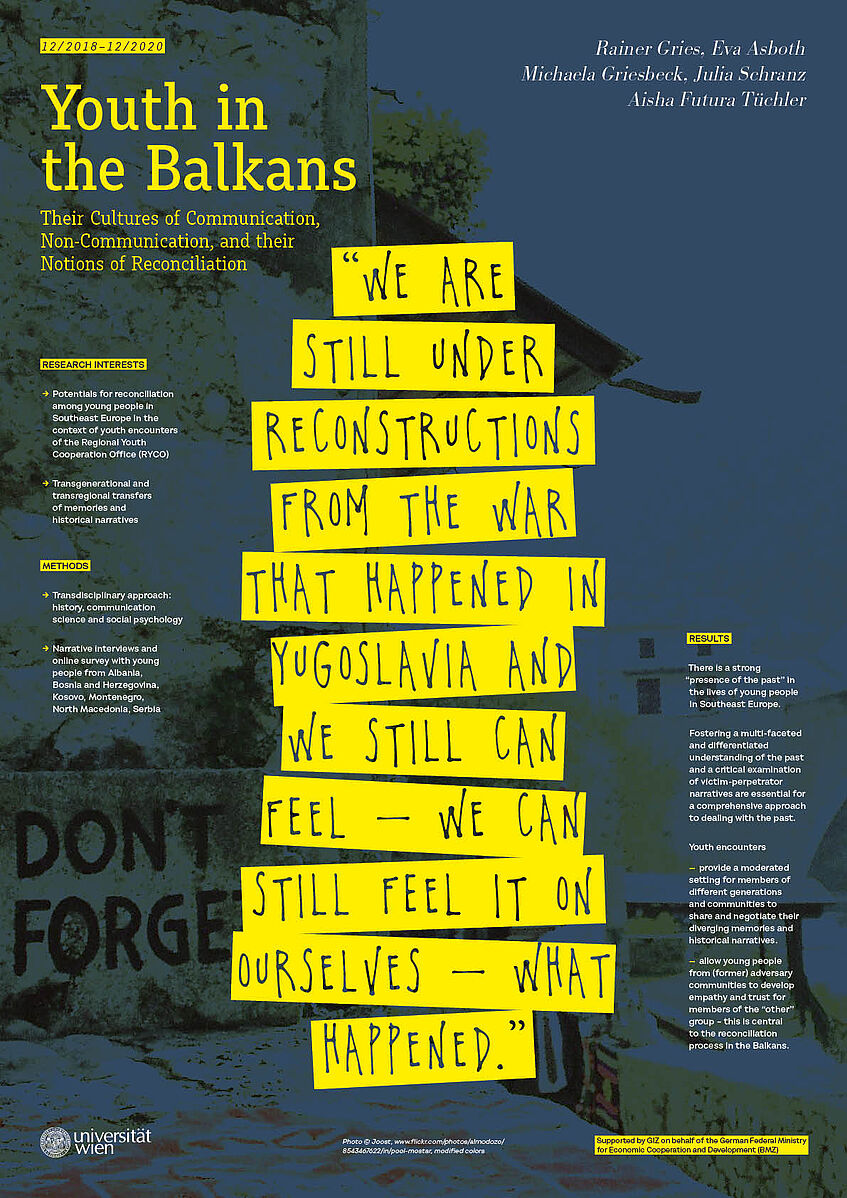 Projekt-Laufzeit: December 2018 - December 2020
Projektleiter: Univ.-Prof. Dr. Rainer Gries
Team:
MMag. Eva Tamara Asboth, Bakk. phil.
Finanzierung: Supported by "Gesellschaft für Internationale Zusammenarbeit (GIZ) GmbH" on behalf of the German Federal Ministry for Economic Cooperation and Development
---
Short Description
What makes young people in Southeastern Europe unique? First and foremost, they form an extraordinary generation due to their common burdens - their shared experiences of war often accompanied by fight during their childhoods, and their shared experiences of growing up in political and economic instability in the artificially constructed region of the "Western Balkans" refers to former Yugoslavia without Croatia and Slovenia, adding Albania.
It is a matter of fact that generations form their very own (sub)cultures to communicate and constitute the essentials and the appearance of "their" generation, even if their cultures of communication separate young people on the basis of their inherited world views and systems of beliefs, probably as a result of the wars. However, we claim that there is a common baseline concerning their past, hence we refer to the young people of Southeastern Europe as members of the Balkan Youth.
Members of the Balkan Youth in our case are young adults between ages fifteen and thirty-five years and live in Albania, Bosnia-Herzegovina, Kosovo*, Montenegro, North-Macedonia and Serbia. According to previous research of the Franz Vranitzky Chair for European Studies, the Balkan Youth can be divided into two main generations: The "Children of the Balkan Wars" on the one hand, and the "Post-War Youth" on the other. The first group was born before or during the wars and shares experiences of war, violence, and/or flight. The latter generation was born in a period dictated by the burden of the aftermath of the wars. We argue that those two generations have experienced different childhoods, but have still built strong ties due to parent-and-child or older-and-younger-siblings' relationships, as well as similar every-day-life challenges such as education, (un)employment, financial (in)dependence. Employing oral history and life-story interviews, we research the historical, socio-economic, religious, and international contexts they live and lived in, as well as their attitudes towards the Yugoslav Wars of the 1990s and the European idea. Our cooperation partner, the Regional Youth Cooperation Office (RYCO) is operating in the "Western Balkans" and organizes exchange programs for the Balkan Youth. RYCO is therefore an excellent partner for gaining access to interview partners. We aim to point out the cultures of communication, non-communication, as well as the notions of reconciliation of the members of the Balkan Youth, which are revealing their common and divided memory as well as their transferred, historical, and inherited narratives.
Key terms:
Cultures of Communication and Non-Communication, Reconciliation, Yugoslav Wars, Oral History, Memory Studies, Youth, Southeastern Europe, "Western Balkans", Narratives, Transfers, Generation
---
Wesentliche Ergebnisse des Forschungsprojektes: "The Youth in the Balkans and their Cultures of Communication, Non-Communication, and their Notions of Reconciliation" am Franz Vranitzky Chair for European Studies wurden in einer soeben erschienenen Publikation veröffentlicht:

Regional Youth Cooperation Office (RYCO) (Ed.): A Better Region Starts with YOUth, Tirana (Albanien) 2020.

Mit Beiträgen von Dr. Eva Tamara Asboth, Dr. Michaela Griesbeck, Julia Anna Schranz und Aisha Futura Tüchler und einem Interview mit Univ.-Prof. Dr. Rainer Gries.

Das Projekt wurde von der Deutschen Gesellschaft für Internationale Zusammenarbeit (GIZ) gefördert.
Die Publikation steht hier zum Download bereit.